So, the *last* day of chemo this week was supposed to be yesterday. Notice how I said "supposed to be"? Yep. Well, as it turns out, the blood taken Monday grew some cultures that are from an unknown infection. Nice. (what IS it with this family and rare and unknown diagnoses?!?)
So, he was kept overnight at the hospital in the city. :(
We tried to spend the whole day there, just in case they let him go, but it didn't happen, so we left for the long car ride home at about 9 last night, minus hubby.
With any luck, they'll figure out what the "mystery culture" is, write him a script and let him come home, but let's not get
too
attached to that idea, lest it pass by and we all sink lower in our chairs for the day.
The good thing was, we had an adventure yesterday, the kids and grammie and I, that is. We had lunch at my favorite munchdown spot, TGI Fridays, who also happened to be having a car show outside, which was a nice perk for a little boy who's wild and crazy about cars. He said this one was a "DOMO Car". So cute.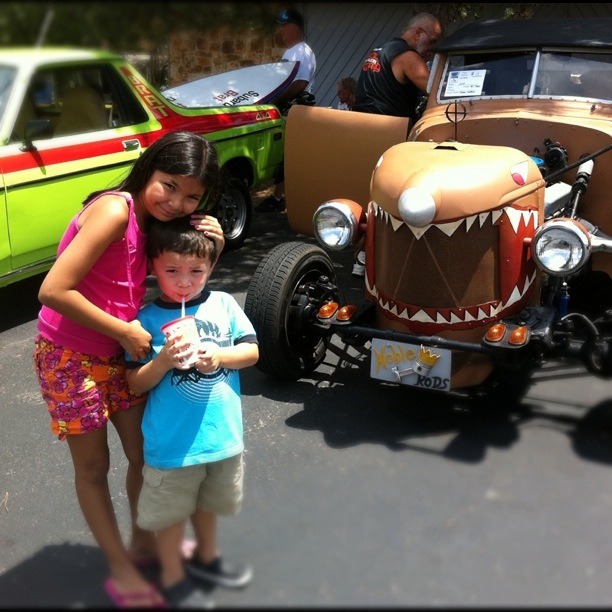 (Domo)
We also passed a ginormous Vietnamese (I think) shopping center, and just had to stop. It was a little strange, walking in there. I almost felt like I was back in Cali! (and then the smell hit me like a ton of fish slapped me in the face with their rotting tails, and I was back to reality)!
Ev is a
REALLY
sensitive nose person. He gets that from his Uncle Alex. One smell gone bad, and you're going to see a smear of a person flying off to the nearest unsmelly point, or you're going to have a mess to clean up. Ev took one sniff and immediately we heard the protests in a little,stifled, hand-over-entire-mouth-and-nose region voice. I couldnt argue. It was terrible, but you grow to expect it, and I had given Em the speech before we headed into the dead sea, so she knew it was coming,too. (She's not a weak stomach, just a VERY opinionated eight year old with NO filter OR volume control. It's been broken on MAX for years now...)
Anyway, we wandered through, looking at all the strange foods and budda statues and cute characters drawn that resemble a Great Value brand of Hello Kitty, Pokemon, and other Japanese cartoons. For a little fun and relief from, number one, the
smell
, and number two, carrying E2, who was, at this point holding chunks of my hair over his nose as a breathing filter (HA!). (I was honestly scolding myself for not taking any of the free SARS-reminiscent masks from the hospital waiting room earlier!), I dressed Em in a rice farmer hat, and Evan had a broom of...twigs? Hay? Ida know. But it darn right funny. Think of the famous American farm couple painting when you view this one:
Can you see how happy he is? Haha! Poor kid. As payment for our Vietnamese adventure (this is how you grab a little culture here in Oklahoma, folks!), Grammie bought them each a cute animal container full of jelly squishers and we were off to the mall to get some security tags removed from a couple pairs of jeans I had bought earlier in the week. (I have a grand talent for getting the cashiers that neglect to take them off. Seriously. And let me tell you - apparently they must NEVER set the alarms off!)
After the mall, the kids were hungry, tired, and grouchy, so we livened up the party by stopping in at Toys R Us for the annual birthday boy shopping adventure.
He's such a sweet kid, my Evan monster. He asks for so little, it was hard to pick anything for a gift. (Though he was pretty attached to the $300 Lightning McQueen Power Wheels...) He liked a lot of things, but wasn't
too
hold-me-back!-I'm-not -lettin-go! about much, except a construction vehicle set, which I ended up getting. (Shh!)
By now, it was getting late, and those of us who wore flip flops were paying for it dearly, and those of us who have been driving for hours everyday for the past week were paying dearly also in their back, and so we headed back to the hospital and wished hubby a good night (he was about an hour and a half shy of infusion:complete), and headed sleepily home.
We'll wait until we get a call from the culture folks before we start on our trek again. Em was promised a build-a-bear trip and so we'll have an added agenda today as well. We'll see if we wore Grammie out so much yesterday that she chooses to remain home today!
I can't wait to get hubby home. This chemo cycle has been a pain in the patootie!!
UPDATE: Hubby just called. Looks like we'll be having another night apart. :'(
Pin It